In the first of, hopefully, many collaborations, I'm joining up forces with my close friend and beauty blogger Aundi Lesley to do a crossover celebrating beauty and makeup in Hollywood. When she's not sharing posts on beauty tips and recording helpful how-to videos, she's working as a professional makeup artist and personal shopper. Check out her blog, MakeUpByAundi.com, and follow her on Twitter and Instagram!
As a makeup artist, I am constantly trying new makeup trends and techniques, but I can appreciate a woman who knows what she likes and sticks to it. Let's take a look at these Hollywood icons whose signature makeup looks have become almost synonymous with their names. Don't forget to head over after to
MakeupByAundi.com
to see Scottie's Top Ten picks on special effects makeup in film.
10. Sophia Loren
This international film star entered the Hollywood scene in the late 1950s and was known for her voluptuous body and sex appeal. Often referred to as the 'Italian Marilyn Monroe', Loren was proud of her curvaceous body. "Everything you see I owe to spaghetti." (Girl after my own heart.) She introduced the world to the simplicity of the cat eye, and the liner trend is still going strong today.
9. Jennifer Lopez
Whether she's judging American Idol or walking the red carpet, she is always rocking her signature JLo glow. The bronzed goddess almost single-handedly the dewy skin craze that continues to be a trend in makeup. Her makeup artist highlights all the right places, giving the appearance of a natural glow from within.
8. Amy Winehouse
Her personal life may have been filled with ups and downs but the one thing that remained constant for Amy Winehouse was her retro style, reminiscent of Old Hollywood glamour. She never left the house without her signature beehive hair (the higher the hair, the closer to Jesus) and heavily exaggerated winged liner.
7. Brigitte Bardot
This 60s sex symbol made a name for herself in Hollywood after her role in the controversial film 'And God Created Woman'. During her prime, BB was influential in makeup, hair and fashion. In fact, the Bardot neckline was named after her signature look of exposed shoulders. She was known to wear sultry, smokey eye makeup complete with heavy liner and full lashes, but she is probably best known for her full nude pout, a popular trend still today.
6. Grace Kelly
This Academy Award-winning actress turned real-life princess was the epitome of elegance. All who knew Grace raved about her, proving her beauty shone from within. She was and continues to be a classic style icon. Her perfectly quaffed hair, tamed brows and porcelain skin all played a part in this leading lady's signature look.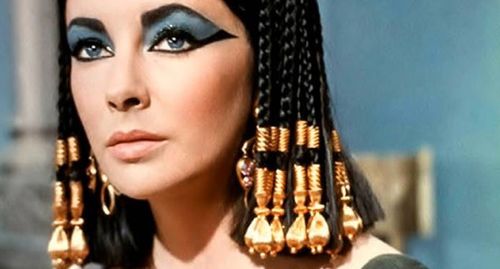 5. Elizabeth Taylor
This list wouldn't be complete without mentioning Elizabeth Taylor. With her remarkably dark features, double lashes (thanks to a rare genetic mutation) and piercing violet eyes, this Hollywood actress was stunningly gorgeous. Her role in the 1963 film 'Cleopatra' birthed one of the most iconic makeup looks in film. The blue shadow and graphic black liner is a look that continues to be recognizable to this day.
4. Kim Kardahian
Say what you will about this Kardashian, but there is no denying the starlet's makeup is always flawless. A heavily sculpted face is all the rage these days thanks to Kim and her makeup artist Mario Dedivanovic. Girls everywhere are scouring Pinterest for new highlighting and contouring techniques. Who doesn't want those cheekbones?
Oh, did I mention I have a tutorial for that? You can find it here!
3. Twiggy
This iconic mid-60s model left her mark on the fashion scene at a very young age. This doe-eyed beauty was named "The Face of 1966" by the Daily Express at the age of 17. Twiggy's pixie hair, cut-crease shadow, and dramatic false lashes attributed to her signature look that is still emulated today.
2. Marilyn Monroe
This list wouldn't be complete without this 1950s bombshell. Her sultry eye liner, fluttering lashes, and red lips are all part of her signature look that made her a pin-up icon. Her makeup artist, Allan "Whitey" Snyder was innovative in his techniques, using Vaseline to highlight Marilyn's face and up to five lipsticks to achieve her perfect red lip. Whitey perfected the art of using makeup to create illusions, and his tricks are still used by makeup artists today!
1. Audrey Hepburn
Even as her fame continued to grow, this Hollywood icon was always true herself - a characteristic that earned her the #1 spot in this Top Ten. Although she didn't consider herself an icon, her classic style spawned trends that are still around today. Her role in 'Breakfast at Tiffany's' was the beginning of the Little Black Dress phenomenon. And what girls today wouldn't do for her naturally full brows. Along with her signature brows, she was usually sporting simple liner, and red lips, playing up her naturally elegant features.
ABOUT AUNDI:
Aundi is a self-proclaimed girly-girl who loves all things makeup and beauty. When she's not blogging or filming makeup tutorials, she's spending time with her favorites: her husband, Lloyd, and her Chihuahua, Joey. She has an extreme addictions to makeup (obviously), Mexican food, YouTube, and Vanilla Coke Zero. Her life's mission is to become best friends with Mindy Kaling.